Dark circles are a major issue for most of the girls, including me because when I develop them, everyone keeps asking, haven't you slept well? Are you sick? And so on. Looking fresh and bright helps you get rid of such useless questions and have a pleasant day.
Related: BEST 4 WAYS TO ELIMINATE DARK CIRCLES
I have fallen for this LA Girl USA Pro Conceal HD Concealer. This beauty product has completely stolen my heart and has helped me stick to my budget.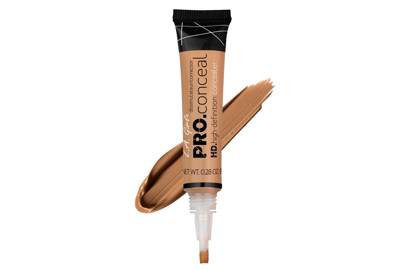 Although I am very choosy about my makeup product, this LA girl pro concealer has made me fall quite as hard and faster than any other product.
This concealer is crease-resistant and has opaque coverage in a lightweight and creamy texture. It has a full coverage consistency and manages easily and effectively to cover all the discolouration on my face like it wasn't there. This long-wearing formula conceals redness, darkness under the eyes, and skin imperfections.
The concealer offers complete natural-looking coverage, minimizes fine lines, covers dark circles, and evens skin tone around the eyes. This LA girl pro concealer is available in 43 shades, in which some shades are available for actual concealing, some can be used as highlighters, and some shades for colour correcting.
The concealer comes in a transparent squeezable tube with a brush applicator tip to apply the product evenly. It helps to blend the concealer on my face directly out of the tube which makes it easy for me to get the no-makeup look when I don't feel like applying foundation on my face or when I'm running late for offices or parties.
The brush applicator helps me to blend the concealer so smoothly that I rarely need to use my makeup sponge afterwards for applying foundation.
Due to the liquid consistency of this product, it becomes very easy for me to spread and blend the concealer. The brush absorbs a sufficient amount of the concealer, which allows a smooth spread.
The consistency of this LA girl pro concealer is perfect, and the texture is super smooth and creamy. The screw cap of this makeup product makes it travel friendly, and you do need to worry about getting it spread in your makeup bag.
Although I'm not fond of the brush-on idea, I still liked this brush-on concealer makeup product. The longevity and coverage of this concealer are highly tremendous.
Related: 11 BEST MAKEUP BRUSHES SET
At such a reasonable price, this is truly an HD concealer that stays all day long after I set it with powder or setting spray. It stays for too long from my morning ride in a local train to the late-night parties until I double-cleanse my face at home.
LA Girl USA Pro Conceal HD concealer is a dream come true makeup product, and I'm so happy that I have found this best product after worrying about my dark circle for all these years.
This product conceals my main focus of dark circles like they never existed. With just a pea-sized amount, this product offers a natural look and doesn't look cakey. It covers everything from a scar to redness to zit while offering a flawless skin and tone. However, patches or spots might create trouble if you wish full coverage for such imperfections.
A wide range of shades is available for every skin tone, so it becomes very easy to choose the perfect match. Once you have selected the right shade that matches your skin tone, you can use it with your foundation as well.
It will blend smoothly like a part of your foundation and offer you even skin tone. The concealer doesn't budge or crease all day long. It stays intact even on oily skins too when set with a setting powder.
It has a commendable wearing time that is all day long without fading. I will highly recommend this LA girl pro concealer to everyone.